We have several natural hemorrhoid dietary supplement options that are specifically formulated to support different hemorrhoids conditions.
Ultimate Hemorrhoids Solution
Advanced Hemorrhoids Solution
Hem-Relief
Hem-Miracle Cream
---

Hem-Relief
911 for Hemorrhoids. Hem-Relief has helped millions worldwide who have experienced both internal and external hemorrhoid flare-ups. You will be amazed how quickly you will be back to your normal routine.
Hem-Relief is scientifically formulated to help relieve hemorrhoid flare-ups **
Each ingredient thoroughly researched for its role in aiding hemorrhoids relief

100% natural, vegetarian capsules
Options: (Discount packages available)
---
Key Ingredients
Witch Hazel Leaf (Hamamelis)


Renowned as one of the most effective herbs for vascular problems, Witch Hazel is a natural astringent and is known to reduce swelling and inflammation caused by hemorrhoids.   The astringent tannins in witch hazel temporarily tighten and soothe aching varicose veins or reduce inflammation in cases of phlebitis (an inflammation of a vein). Witch hazel also contains procyanadins, resin, and flavonoids, all of which add to its soothing, anti-inflammatory properties. Only the most effective part of the plant, the leaf, is used in Hem-Relief. **
Horse Chestnut Leaf (Aesculus hippocastanum)
Arguably the most well known and well researched as a natural herbal remedy for hemorrhoids.  Studies show that Horse Chestnut, especially the leaf, is highly effective at improving circulation, reducing swelling and inflammation, and healing and strengthening damaged vascular tissue. **
Ginger Root
Extremely well known as a digestive aid, Ginger has been used in medicine since ancient times and is known for it's antioxidant and anti-microbial properties and can be very soothing to the digestive tract. **
References
1.Witch Hazel. Review of Natural Products. factsandcomparisons4.0 [online]. 2005. Available from Wolters Kluwer Health, Inc.
2.National Institute of Health – National Center for Complementary and Alternative Medicine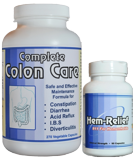 Over 42% of hemorrhoids cases are related to colon issues. Constipation and diarrhea can promote and aggravate hemorrhoids. 
Complete Colon Care and Hem-Relief capsules can provide support for both your colon issues as well as your hemorrhoids. **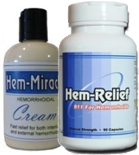 Find out how our combo of Hem-Miracle Cream and Hem-Relief capsules can help provide fast resolution to hemorrhoid suffering. **
**The products and the claims made about spedific products on or through this site have not been evaluated by the Food and Drug Administration and are not intended to diagnose, treat, cure or prevent disease. The information on this site is not intended to be a substitute for professional medical advice. You should consult with a healthcare professional before starting any diet, exercise or supplementation program. If you have, or suspect to have any medical condition, you are urged to consult your health care provider. The views and opinions expressed by contributors of the product reviews are their own and not necessarily those of WesternHerbal.com. WesternHerbal.com does not endorse or imply any medical claims from these reviews. These reviews should not be taken as recommendations but rather customer opinions of the products that they may or may not have used.